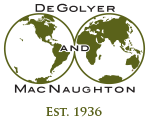 Worldwide Petroleum Consulting

Vladimir S. Zhukov
Vladimir S. Zhukov joined DeGolyer and MacNaughton's Moscow office in 2021 as a reservoir engineer specializing in reserves estimation. Before joining D&M, Vladimir worked as reservoir engineer at Salym Petroleum Development, Rosneft, and Gazpromneft STC.
Zhukov graduated from Gubkin State University of Oil and Gas in 2013 with a specialist's degree in oil and gas field development. He speaks Russian and English.
Geographical Experience
Kazakhstan
Russia
Ukraine
Uzbekistan

Topical Areas of Expertise
Reserves estimation
Field development analysis and optimization
Production forecasting
Waterflood analysis
Reservoir modeling

Major Projects
Zhukov estimates reserves for oil and gas fields throughout Russia, Kazakhstan, Ukraine, and Uzbekistan.