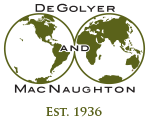 Consultoría Mundial de Petróleo y Gas

Hunter Graves
Hunter Graves joined DeGolyer and MacNaughton in 2018 as a reservoir engineer. Prior to joining D&M, he worked for Denbury Resources and PetrolTel Inc. as an international consultant.
He graduated from the University of Texas at Austin with a bachelor's degree in petroleum engineering in 2002 and a master's degree in petroleum engineering in 2005. 
Geographical Experience
Malaysia
Oman
Russia
United Arab Emirates
United States
Topical Areas of Expertise
WAG production strategies
Enhanced oil recovery
Well pattern planning
Reservoir simulation for black oil, compositional, CO2 injection
Field development planning for green fields, brown fields, offshore expansions
Workovers
Artificial lift
Facility design
Economic analysis
Pilot studies
PVT analysis
Waterflood and CO2 injection
Major Projects
Graves has worked on large-scale offshore and onshore waterflood optimization projects in the UAE, Malaysia, and Russia.
In Russia, he worked on restoring brown fields such as Samotlor AV, Talinskoye, VKY, and Khokhryakovskoye, in addition to planning green fields such as Kamennaya, Samotlor Ust-Vahk, and the Orenburg region.
In the UAE, he identified infill and workover opportunities in the Umm Shaif and Lower Zakum offshore fields.
In Malaysia, he performed offshore field development planning for the Dulang field and other fields in the Baram Delta region.
In the United States, he participated in the planning and development of onshore CO2 WAG injection in the Bell Creek field and other fields in the Powder River Basin Montana and Wyoming.