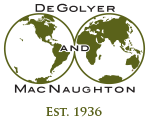 Consulatant mondial de l industrie petroliere

Almir S. Bachin
Almir S. Bachin joined D&M's Moscow office in 2008 as an economist. In 2011, Bachin was appointed as the Manager of Business Development.  Before joining D&M he worked for Rosneft Oil Company as an economist  and budget analyst.
Bachin earned a master's degree in Oil and Gas Economics in 2008 from the I.M. Gubkin State Oil and Gas University in Moscow. He is fluent in Russian and English.
Geographical Experience
Azerbaijan
Kazakhstan
Russia
Turkmenistan
Ukraine
Uzbekistan
Topical Areas of Expertise
Reserves Evaluation
Acquisitions and Mergers
Economic Analysis
Economic Modeling
On-site Inspections
Major Projects
Bachin has worked to establish relationships with new clients and to maintain continued relationships with our long term clients in Kazakhstan, Azerbaijan, Uzbekistan, and the Ukraine. Bachin also performs on-site inspections of operations and infrastructure for the preparation of Competent Persons reporting.