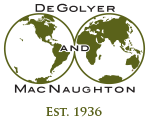 Consulatant mondial de l industrie petroliere

Dr. Justin Brand
Dr. Justin Brand joined DeGolyer and MacNaughton in 2018 as Deputy Director of the Saint Petersburg, Russia office. He is currently the General Director, Mediterranean region based in Limassol, Cyprus, and works within the Reservoir Studies Division of D&M.
Brand received a bachelor's degree in mathematics from the University of Nebraska in 2002. He has also earned multiple graduate degrees, including a doctorate in chemical engineering from the Technical University of Denmark and an executive master's degree in business administration from Cornell University in Ithaca, New York. He has served as an industry advisor on university petroleum engineering boards and has authored technical articles for industry journals and educational publications. Brand is a member of the Society of Petroleum Engineers (SPE) and the Society of Professional Evaluation Engineers (SPEE).
Geographical Experience
Albania
Angola
Azerbaijan
Brazil
Canada
Central and Eastern Europe
Egypt
Ghana
Greenland
Iraq
Kazakhstan
North Africa
North Sea
Libya
Oman
Pakistan
Qatar
Russia
Turkey
United States
Topical Areas of Expertise
Enhanced oil recovery methodologies
Field development studies
Naturally fractured reservoirs
Probabilistic analysis
Production optimization
Property evaluation
Major Projects
Prior to joining D&M, Brand gained experience in reservoir engineering and development planning at Exxon Mobil in Houston, Texas for projects in Alaska, Canada, and Russia. He has been a subsurface director supervising multi-disciplinary teams at several non-U.S.-based international oil companies, including Maersk Oil, Genel Energy, and most recently MOL Group in Budapest, Hungary as Senior Vice President of Subsurface and Field Development.
He has experience in many parts of the world, including the Middle East, Europe, and CIS. He has led studies ranging from mature field revitalization to field development planning (FDP) projects to property evaluations and technical advisement for upstream M&A activities.
For D&M, he is currently responsible for the management of all projects coordinated within the Limassol office, including several field development projects in Libya for large integrated studies, simulation modeling, and production enhancement.