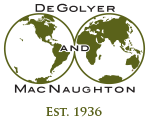 Consulatant mondial de l industrie petroliere

Anthony L. Cole
Anthony L. Cole joined DeGolyer and MacNaughton in 2017 as a sedimentology and stratigraphy specialist, with an emphasis on field development optimization and reserves estimation.  During his career, he has worked for: Conoco, Dubai Petroleum Company, Anadarko Algeria, Nations Petroleum (Jakarta, Indonesia), Afren Resources (Kurdistan and West Africa), and Ecopetrol.
Cole received a bachelor's degree in geology from the University of Arkansas in 1984 and his master's degree from the University of Oklahoma in 1988. He is a member of the American Association of Petroleum Geologists, the Society of Economic Paleontologists and Mineralogists, The Houston Geological Society, and the Southeast Asia Petroleum Exploration Society.
Geographical Experience
Algeria
Argentina
Brazil
Brunei
Ecuador
Indonesia
Kurdistan
Mexico
Peru
United Arab Emirates
United States
Venezuela
Topical Areas of Expertise
Reservoir characterization
Wireline log correlation
Sequence stratigraphy
Petrographic analysis
Seismic interpretation
Field development optimization
Core description
Carbonate reservoirs
Major Projects
While working on a project in the Permian Basin, Cole applied sequence stratigraphic concepts to fields on the Central Basin Platform and explored for Devonian dolomites on structural horst blocks. His work included upgrading probable and possible reserves. He was a leader of the Petrozuata development project in Venezuela, where Conoco drilled more than 270 multi-lateral horizontal heavy oil production wells. Cole utilized real-time geosteering of wells and integrated 3–D seismic data with stratigraphic models to delineate the reservoir and optimize reserves and field development.
He assisted the "CO2 Flooding Project" for the Mishrif Formation in the Fateh field in the Arabian Gulf. He also designed the horizontal waterflood in the Falah field. His core descriptions of the Mishrif, Thamama, and Ilam reservoirs were integrated with the field's simulation models.
In the Berkine Basin of Algeria, Cole worked as a senior staff geologist, describing, interpreting, and integrating whole core information to optimize the reserves associated with the field's fluvial reservoirs. Part of that effort required geocellular modeling for reservoir simulation.
As chief geologist for Afren Resources, Cole was responsible for the Barda Rash field project in Kurdistan. His work was instrumental in the construction of development models for the field and in the estimation of reserves.
The Global New Ventures group of Ecopetrol utilized Cole as a geological advisor. His efforts included the analyses of several prolific basins in South America focused on probabilistic volumetrics, reserves, prospective and contingent resources, and portfolio economics in Peru, Ecuador, offshore Brazil, Argentina, and Mexico.