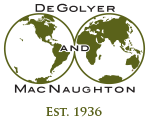 Consulatant mondial de l industrie petroliere

Dr. Maxim N. Deschenya
Maxim N. Deschenya joined DeGolyer and MacNaughton's Moscow office in 2006 as a petroleum geologist. He is experienced in the integration of petrophysical, seismic, and well-test data for the creation of 2–D and 3–D geological models and in the evaluation of reserves using SPE and SEC classifications. Before joining D&M, he was a geologist for TNK-BP for the Nyagan projects, where he integrated seismic, petrophysical, and well-test data to developed 3–D geologic models.
In 2001, Deschenya graduated from Tyumen Oil and Gas University with a master's degree in geology, and he completed his doctorate in 2007. Deschenya's native language is Russian and he is fluent in English.
Geographical Experience
Kazakhstan
Russia
Ukraine
Topical Areas of Expertise
Geological modeling
Stratigraphic and structural analysis
Seismic and petrophysical analysis
Reserves evaluation and classification
Geological studies
Reservoir characterization
Volumetric calculations
Reserves estimation
Major Projects
Deschenya has conducted reserves estimations on hundreds of fields situated in the Russian Federation, Kazakhstan, and the Ukraine. He coordinates geological studies for reserves evaluation projects for several Russian and Kazakhstan oil and gas companies. His responsibilities also include internal coordination of the multidisciplinary team in addition to his technical work, and oversight of the preparation of reserves reports under both SEC and PRMS guidelines.