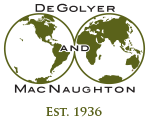 Consulatant mondial de l industrie petroliere

Anton A. Strelkov
Anton A. Strelkov
Project Geologist
Anton A. Strelkov joined DeGolyer and MacNaughton in 2014, specializing in geologic modeling of clastic and carbonate reservoirs, as well as reserves and resources estimation for oil and gas fields. Before joining D&M, Strelkov worked in several geophysical companies where he gained experience in 3–D geologic modeling and reserves estimation in the Volga-Urals, Timan-Pechora, and West Siberia regions. Outside of Russia, Strelkov has performed geologic modeling and resources assessments in Turkmenistan and the Lower Magdalena Basin in Colombia.
Strelkov earned a bachelor's degree in Geology and Exploration of Fossil Fuels at the Gubkin Russian State University of Oil and Gas in 2005, and master's degree in 2007. Strelkov is fluent in Russian and English.
Geographical Experience
Russia
Kazakhstan
Ukraine
Topical Areas of Expertise
Stratigraphic and structural analysis
Seismic and petrophysical analysis
Reserves evaluation and classification
Geological studies
Reservoir characterization
Volumetric calculations
Reserves estimation
Major Projects
Strelkov has conducted reserves estimations on numerous fields situated in the Russian Federation, Kazakhstan, and the Ukraine with extensive experience in East Siberia. He coordinates geologic reserves estimates under both SEC and PRMS standards for several Russian oil companies.