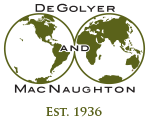 Worldwide Petroleum Consulting

Analyst (Dallas)
March 23, 2021
D&M is seeking a candidate that will be part of a multidisciplinary team responsible for the estimation and classification of hydrocarbon reserves and resources as well as assisting with general reservoir engineering projects. The candidate will work closely with engineers and geologists to prepare, organize, and manage information and data on oil and gas fields.
Description:
Assist engineers to generate databases, compile results, conduct quality control checks, and prepare presentations and formal written reports.
Position requires technically sound judgment, the ability to review large amounts of data in a short timeframe, and efficiency in the application of techniques and tools.
Position includes extensive use of petroleum economic software such as PHDWin and/or Aries, verifying the accuracy of cash flows, and quality control of detailed production, pricing, and cost inputs.
Required Experience and Skills:
Oil and gas experience and knowledge of legal/financial terminology.
Understanding of oil and gas finance in relation to reserves and economics.
Economic modeling expertise considered beneficial.
Familiarity with cash flow modeling and asset valuation skills.
Ability to communicate effectively, have advanced multi-tasking capabilities, and have the ability to work both independently and as part of a team.
High level of proficiency with Access and writing queries. Able to build VBA macros that connect to databases for purposes of extracting and uploading data.
Proficiency in Spotfire, LaTex, and SQL Server considered beneficial.
Strong analytical skills.
Detail oriented and able to prioritize and work on multiple tasks simultaneously.
Requirements:
Bachelor's degree in engineering, mathematics, economics, or science-related field.
5+ years of industry experience, preferably in North American unconventional plays.
Proficiency in the full suite of Microsoft Office applications, including Word, Access, Excel, and PowerPoint, is required.
Strong proficiency in Aries and PHDWin.
Some domestic and international travel may be required.
Available to work extended hours from time to time during peak periods.
U.S. work authorization required.
DeGolyer and MacNaughton offers excellent benefits and compensation.
Next Steps:
. If interested and qualified, submit resume with cover letter. In your submission, indicate you are responding to "Analyst".
Back to Careers