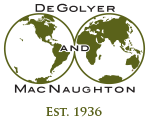 Worldwide Petroleum Consulting

Application Developer – (Dallas, TX)
December 15, 2021
DeGolyer and MacNaughton (D&M) is seeking a talented developer to actively participate in the transition of application design, development, and maintenance to the cloud. The ideal candidate for this role excels in the areas of programming, communication, attention to detail and problem-solving. The candidate will work to enhance the value of existing applications, foster innovative solutions, and design new applications that are customized to the organization's needs. The candidate will be part of the company's application development and data science team and collaborate with D&M industry leading energy consultants on high-value digital solutions.
 Responsibilities:
Collaborate with D&M business experts to produce industry-leading software.
Formulate program specifications and basic prototypes.
Transform software designs and specifications into high-functioning code in the appropriate technology.
Enable tight technical integration across the D&M applications.
Transition on-premises applications to cloud development and delivery platforms.
Perform upgrades to make software and systems more secure and efficient.
Create documentation for user support.
Provide technical support.
 Capabilities:
Proficiency with Microsoft technologies such as Azure, .NET, SQL Server.
Proven experience delivering cloud-based web applications and desktop applications.
Full stack development experience.
Analytical and problem-solving skills.
Excellent interpersonal, organizational, and collaboration skills.
Experience in the Energy Exploration & Production industry is a plus.
 Job Requirements:
Degree in Computer Science or related field (3+ years application development experience).
U.S. work authorization required.
Dallas, Texas based role (Hybrid).
DeGolyer and MacNaughton offers excellent benefits and compensation.
Next Steps:

. If interested and qualified, submit resume with cover letter.  In subject line for email, indicate you are responding to the opportunity "Application Developer."
Back to Careers