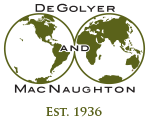 Worldwide Petroleum Consulting

Data Scientist – Dallas, TX
January 24, 2023
DeGolyer and MacNaughton (D&M) is seeking a talented data scientist to develop innovative and advanced analytics-based solutions.  Clearly articulate strategy and designs for solving complex business problems using advanced analytical techniques. Recommend approaches and collaborate with the Data Science team to apply AI and machine learning/statistical methods to complex problems.  The candidate will be part of the company's Data Science and Application team and collaborate with D&M industry-leading energy consultants on high-value solutions.
 Responsibilities:
In collaboration with company-wide technical experts (e.g., engineers, geologists), understand business needs and identify opportunities to apply advanced analytics to answer specific business questions.
Apply advanced statistical and predictive modeling techniques to build, maintain, and improve decision systems.
In collaboration with Division Management, understand future client job requirements and develop analytics strategies.
Help champion change and communicate the value of advanced analytics through the company.
Work on continuous improvement efforts to improve data quality and data access across the company.
Remain appraised of innovative vendor analytics technology and data sources applicable to the oil and gas industry; propose and participate in proof-of-concepts efforts.
Process and efficiency optimization design based on historical data.
Collaborate in deploying systems that drive improved solutions, increase speed and accuracy of data analysis, etc.
Ensure the integrity and security of company data.
Model the practices that enable data value to company operations, performance improvement, and strategic decisions.
Provide user support for existing company Big Data solutions and advocate for additional opportunities to deliver value from these solutions.
 Capabilities:
Experience in the Energy Exploration & Production industry is a plus.
Excellent interpersonal, organizational, and analytical skills.
Good communication and presentation skills.
Strong collaboration skills.
Demonstrated ability to visualize and concisely present ideas to all levels of the company.
Copes well with workload pressure and deadlines.
Analyzes internal stakeholder needs and external market trends to understand how they shape the future and impact our business results.
Proficient in process analysis and measurement to optimize process efficiency and maximize value from Big Data solutions.
Works well in multi-disciplinary teams.
 Job Requirements:
Degree in Computer Science, Data Science, Engineering, Mathematics, Physics, or Statistics.
2+ years of working experience in using statistics and data science analytical techniques.
Experience with data mining and/or predictive analytics, applying statistical, AI, or machine learning algorithms.
Experience with visualization tools such as Spotfire or Microsoft PowerBI.
Statistical modeling programming skills in Python or R.
Experience in oil and gas industry software platforms a plus.
U.S. work authorization required.
Dallas, Texas based role (Hybrid).
DeGolyer and MacNaughton offers excellent benefits and compensation.
Next Steps:
with cover letter.  In email's subject line, indicate you are responding to the opportunity "Data Scientist".
Back to Careers