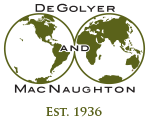 Worldwide Petroleum Consulting

Petrophysicist (Dallas, Texas)
August 3, 2020
Duties:
• Analyzing open-hole logging data to estimate lithology, porosity and water saturation in a field study environment using industry-accepted deterministic and probabilistic methodologies
• Analyzing dipole sonic data (compressional and shear waves) to estimate anisotropy and wellbore geomechanical properties
• Recognizing significant changes in lithology, fluid type or logging technology and adjusting quantitative calculation models appropriately
• Using the principals of similarity and reference lithology to normalize logs
• Using core and geological data together with multiple logs to develop project-specific models for estimating permeability
• Quantifying estimation uncertainty to provide probabilistic description of well results
• Identifying and extracting needed data from large databases
• Interpreting routine and special core analyses
• Interpreting wells logs using older single-detector neutron or microlaterolog technology
• Communicating results effectively, orally and written
Minimum Requirements
• Bachelor's degree in a geoscience, physics or a relevant engineering specialization
• Demonstrated experience with wellsite operations as a geologist or petrophysicist
• Demonstrated experience with petrophysical interpretation in clastics and carbonates
• Demonstrated aptitude with an industry standard petrophysical software system
• Demonstrated ability to manage projects and deadlines
• Ability and flexibility for possibly 2-6 weeks of travel to client offices each year; no wellsite operations or trips to the oil field will be required
• U.S. work authorization required.
DeGolyer and MacNaughton offers excellent benefits and compensation.
Next Steps:

. If interested and qualified, submit resume with cover letter.
In subject line for email, indicate you are responding to the opportunity "Petrophysicist".
Back to Careers