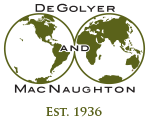 Worldwide Petroleum Consulting

Reservoir Engineer – (Dallas, TX)
July 30, 2021
D&M seeks an experienced reservoir engineer with a broad reservoir characterization and field development planning skillset to lead multi-disciplinary teams while performing integrated reservoir studies focusing on conventional and tight reservoirs. This individual is also expected to perform independent evaluations of wells, reservoirs, and field performance to estimate recoverable quantities under different reservoir drive mechanisms (gas cycling, solution gas, waterflood, gas-based EOR, water-based EOR such as polymer, surfactant polymer, alkaline surfactant polymer, LowSal, etc.), and communicate those results with managers and clients through verbal and written reporting. 
Duties:
Evaluate petroleum reservoir fluid properties to generate fluid PVT tables or EOS as needed, analyze data on rock and fluid properties, and estimate the recovery of hydrocarbons from reservoirs.
Utilize multiple methods for evaluation, including numerical modeling, analytical modeling, performance analysis through decline-curve analysis, material balance, and other analysis methods. Understanding of reservoir drive mechanisms, fluid characterization, fluid flow through porous media, and volumetric behavior of reservoirs and in-situ fluids is essential.
Determine and incorporate components of a volumetric estimate of petroleum in place and recoverable quantities, including reservoir fluid properties, petrophysical parameters, and volumetric analysis. Volumetric estimates require interactions with geophysicists, petrophysicists, and geologists.
Provide recommendations for improved reservoir description processes and develop plans for data collection, future technology applications, and field development based on the results of integrated reservoir studies.
Communicate results in a clear and logical manner, verbally and in written form. Proper English grammar and composition ability are essential.
Operate software to complete evaluation. Experience with Petrel, ECLIPSE, tNavigator, or other dynamic-modeling software is a requirement. Programming capabilities and experience in pre- and post-processing data to facilitate dynamic modeling is a strength.
Work in multi-disciplinary and multi-national teams and mentor junior engineers.
Minimum Requirements:
At least a bachelor's degree in Petroleum Engineering from an accredited university. An advanced degree (e.g., Master of Science) in Petroleum Engineering from an accredited university is a strength.
At least 10 years of experience involving reservoir simulation using commercially available dynamic-modeling software to estimate reserves and production profiles based on calibrated dynamic models, and at least 5 years of experience as a supervisor or technical lead for simulation projects. Having worked for a service company on overseas projects is an advantage.
Experience with coordinating multi-disciplinary teams.
Experience writing technical reports. Presentation skills and position advocacy are recognized strengths. Involvement in industry activities such as participation in the Society of Petroleum Engineers' workshop and conference program committees is a plus.
Up to 25% domestic and international travel.
U.S. work authorization.
Next Steps:
. If interested and qualified, submit resume with cover letter. In your submission, indicate you are responding to "Reservoir Engineer".
Back to Careers