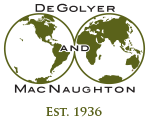 Worldwide Petroleum Consulting

Reservoir Engineer (Dallas or Houston)
January 29, 2020
D&M seeks a reservoir engineer with extensive Gulf of Mexico experience to perform independent reserves estimations of Gulf Coast fields and reservoirs (onshore and offshore). Working knowledge of the Petroleum Resources Management System (PRMS) and the guidelines of the United States Securities and Exchange Commission (SEC) and exemplary presentation, written, and oral communication skills are required.
Duties:
Evaluate oil and gas reservoirs to estimate reserves and contingent resources according to industry standards. Familiarity and experience with the Petroleum Resources Management System (PRMS), United States Securities and Exchange (SEC) Regulations desired.
Utilize multiple methods for estimation, including performance analysis, through decline-curve, material-balance, simulation, and other methods of analysis. Essential understanding of reservoir drive mechanisms, fluid flow through porous media, and volumetric behavior of reservoirs and in-situ fluids.
Communicate results in clear and concise manner (written and verbally). Proper English grammar and composition ability is essential.
Demonstrated ability to work in multidisciplinary teams.
Minimum Requirements:
At least a bachelor's degree in petroleum engineering from an accredited university.
At least 5 years of experience involving reservoir engineering. Working for a major company in reserves/resources estimation is an advantage. Professional registration is encouraged if not already obtained.
Experience with projecting estimates of future production from reservoirs and evaluating the value of such streams.
U.S. work authorization.
DeGolyer and MacNaughton offers excellent benefits and compensation.
Next Steps:
. If interested and qualified, submit resume with cover letter. In your submission, indicate you are responding to "Reservoir Engineer".
Back to Careers