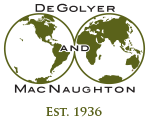 Worldwide Petroleum Consulting

Senior Completion Engineer – (Dallas, TX)
April 6, 2021
D&M seeks an experienced completion engineer with a broad skillset to work with multidisciplinary teams while performing integrated reservoir studies. This individual is also expected to perform independent evaluation of current and past production enhancement operations in conventional and unconventional reservoirs to estimate operation efficiency, design and monitor treatment execution according to industry standards, and communicate those results through verbal and written reporting.
Responsibilities:
Provide quality control of completion data including drilling, stimulation, and production phases of well operations collected for the project. Essential understanding and hands-on experience in well completion design basis and issues, pre-treatment diagnostic testing, stimulation fluid rheology and laboratory fluid and materials validation testing, equipment/perforating limitations and qualification tests, tubular stress and loading analyses, completion-brine usage, diversion techniques applicability and validation testing.
Evaluate and design hydraulic fracture completion using commercial fracture simulation software programs. Proficient knowledge of fracture stimulation software including GOHFER, E-StimPlan, Petrel's KINETICS, Fracpro, FracCADE.
Utilize multiple methods for evaluation, including numerical modeling, analytical modeling, performance analysis through decline curve analysis, material balance, and other methods of analysis. Essential understanding of hydraulically fractured reservoir evaluation based on well testing techniques, knowledge in far-field and near well methods of fracture diagnostics (including microseismic, fiber-optic and tracers) and other methods aimed in reservoir delineation and field development is preferred.
Identify current completion practice inefficiencies and provide recommendations for improved production enhancement and fracture stimulation designs/processes, including recompletion operations, pre-treatment diagnostic tests and post-stimulation flowback.
Develop plans for data collection programs, future technology applications, and field development.
Determine and incorporate components of a completion evaluation into field development study.
Perform economic analysis of past and future stimulation projects.
Communicate results in a clear manner, verbally and in written form. Proper English grammar and composition ability is essential.
Provide preparation and training of short courses on fracture stimulation.
Work in multi-disciplinary teams, mentor junior engineers.
Job Requirements:
Bachelor's degree in Petroleum Engineering.
Field engineering experience involving stimulation engineering as supervisor or technical lead roles.
Experience in project completion (3+ years); experience with multi-frac horizontal well completions and high-pressure high-temperature environment (HPHT) projects is preferred.
Active use of GOHFER software is essential. Active use of Petrel's KINETICS software is beneficial.
Experience with recent technology and workflows applied in unconventional resource play development in the U.S.
Excellent time management skills with ability to manage multiple assignments concurrently and meet tight deadlines.
Strong personal initiative; have sound planning and problem-solving capability and effective interpersonal skills.
Up to 25% domestic and international travel.
U.S. work authorization.
Next Steps:
. If interested and qualified, submit resume with cover letter.  In your submission, indicate you are responding to the opportunity "Senior Completion Engineer".
Back to Careers