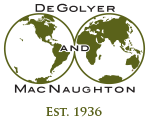 Worldwide Petroleum Consulting

Senior ESG CCUS Professional – Dallas, TX
May 2, 2023
DeGolyer and MacNaughton (D&M) is seeking a senior-level team member with extensive knowledge and substantial experience in Carbon Capture and Sequestration / Carbon Capture Utilization and Sequestration (CCS/CCUS) and hydrogen storage projects to lead a multi-disciplinary team assisting our clients in their corporate sustainability goals. The successful candidate will provide technical expertise and develop solutions on key issues related to CCS/Hydrogen storage programs, policies, and initiatives to our clients around the world. This position is structured to expand the impact of D&M's carbon solutions team in the performance of a variety of projects in CCS/CCUS and hydrogen storage in North America and worldwide.
Responsibilities:
Lead and participate in a multidisciplinary team assisting our clients in storage development studies for CO2 and hydrogen storage projects.
Advance business development opportunities, manage client relationships, and provide guidance on internal personnel training on D&M's CCS and hydrogen storage solutions.
Be responsible for expanding the firm's CCS/Hydrogen storage practice, ensuring quality and timely completion of projects.
Mentor team members to develop necessary skills, monitor their performance, and support their professional development.
Contribute to proposal writing, white papers, and documentation related to promoting services.
Apply proficiency in public speaking, including the ability to present to clients and professional organizations.
Maintain clarity of understanding and knowledge of world carbon markets and regulatory regimes.
Requirements:
Bachelor's or higher degree (preferably in engineering/geology) related to the oil and gas industry with a minimum of 10 years direct oil and gas industry experience; 3+ years of experience in a CCS/CCUS role.
Proven experience with CCS and EOR topics with knowledge of end-to-end storage development planning process.
Knowledge related to CO2 capture technologies and transportation and sequestration infrastructure.
Knowledge of critical factors associated with permitting Class II and Class VI injection wells.
Strong reservoir characterization/modeling background with an emphasis on CO2 sequestration in depleted oil and gas fields and deep saline aquifers.
Experience in the preparation of monitoring, reporting, and verification (MRV) reports for regulatory agencies. Experience with uncertainty assessment and risk analysis of CO2
Familiarity of CCS/CCUS systems with different elements of the design and operation chain. Experience with other non-hydrocarbon areas, such as geothermal and hydrogen storage, is a plus.
Familiarity with Society of Petroleum Engineers' Storage Resources Management System is a plus.
Excellent written and verbal communication skills.
Ability to travel domestically and internationally, up to 25% annually.
Deep knowledge of CO2 / CCS industry standards, codes, and good practice guidelines (45Q/IRS, EPA, ISO, California low carbon fuel standards, etc.).
U.S work authorization is required.
DeGolyer and MacNaughton offers excellent compensation and benefits.
Next Steps:
If interested and qualified, submit resume with cover letter. In subject line for email, indicate you are responding to the opportunity "Senior ESG CCUS Professional".
with cover letter.
Back to Careers