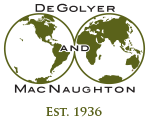 Worldwide Petroleum Consulting

Senior Petroleum Economist – (Dallas, TX)
July 30, 2021
The selected candidate will work closely with petroleum engineers and other petroleum professionals to conduct independent evaluations of reserves or contingent resources according to multiple industry standards and communicate those results through verbal and written reporting. The petroleum economist functions as a core member of the evaluation team and prepares analyses of upstream oil and gas assets in all parts of the world.
The position involves preparing and utilizing detailed economic models of upstream developments that depict various global contract terms and fiscal regimes. The role also includes verifying the accuracy of the resultant cash flows and the quality control of detailed production, pricing, and cost forecast inputs. Daily activities will involve conversing with external financial auditors, banks, client financial advisors, and other financial institutions.
Skills and Requirements:
Bachelor's degree in economics or finance with a strong emphasis in mathematics/science. Other degrees will be considered.
Ten years of experience performing upstream petroleum economic evaluations, emphasis on cash flow modeling and asset valuation. Working for a major IOC evaluating international assets is an advantage.
Expertise in creating economic models of international upstream projects. Advanced economic modeling skills using Microsoft Excel and programming in VBA.
Experience in PEEP, Aries, PHDWin, or other economic modeling software is an advantage.
Must be experienced in assessing and modeling various contract terms and fiscal regimes. Strong experience with modeling PSCs/PSAs is essential.
Knowledge of the requirements of the United States Securities and Exchange Commission/Financial Accounting Standards Board and experience with reconciliation and creation of SMV/SMOG tables is an advantage.
Experience and familiarity with international financial regulations, including those associated with CPRs and initial public offerings, would be a plus.
Experience and familiarity with financial and tax accounting rules would be advantageous.
Background in understanding petroleum pricing trends, regional and worldwide, is an advantage.
Ability to work effectively in a diverse team-oriented work environment on multiple concurrent projects.
Communicate results clearly in verbal and in written form. Knowledge of proper English grammar and composition ability is essential. Detail-oriented and able to prioritize and work on multiple tasks simultaneously.
Multi-lingual capability would be an advantage.
Must be able to deliver on tight time schedules, working effectively with peers and clients. Should be available to work extended hours from time to time during peak periods.
Proactive attitude toward achieving project requirements.
Up to 25-percent domestic and international travel.
Willing to work onsite and remotely as required.
U.S. work authorization required.
DeGolyer and MacNaughton offers excellent benefits and compensation.
Next Steps:

.  If interested and qualified, submit resume with cover letter.  In subject line for email, indicate you are responding to the opportunity "Cloud DB Administrator and Programmer".
Back to Careers