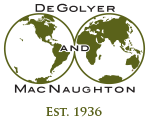 Worldwide Petroleum Consulting

Senior Petroleum Geologist (Dallas, Texas)
October 27, 2020
D&M is seeking a talented Petroleum Geologist to assist our organization in driving value and increasing efficiency by interpreting the structure, stratigraphy, depositional origin, and lithofacies aspects of hydrocarbon reservoirs utilizing industry-standard methods, technology, and computer software. This role's ideal candidate excels in geo-cellular modeling, evaluation of hydrocarbon reservoirs, communication, attention to detail, task management, problem-solving and critical thinking skills. The candidate will work closely with the company's energy industry leaders, collaborate with data analytics groups, and use advanced simulation/cluster technology.
 Duties:
Subsurface mapping: Build 2–D and 3–D static models of original hydrocarbon in place for use in reserves and resources estimation, including structural and stratigraphic interpretations and lithostratigraphic and chronostratigraphic correlation.
Demonstrated skill in subsurface mapping, fault interpretation, lithostratigraphic and chronostratigraphic correlation, core description, and depositional-systems analysis required.
Evaluate data and interpretations for uncertainty and apply that knowledge under PRMS and SEC definitions in a consistent and precise manner.
Ability to perform fundamental log analysis and seismic interpretation.
Integrate data from multiple and disparate sources (e.g., client data, literature) to create a coherent and accurate geologic assessment of reservoirs, traps, and fluid types.
Incorporate all available rock, fluid, pressure, and production data to construct static reservoir models and recommend the best methods to refine dynamic reservoir models geologically.
Lead, train, and mentor an integrated, multi-disciplined team of professional and support staff, managing multiple project assignments simultaneously within firm deadlines.
Prepare and deliver training seminars to clients and staff on specialty topics in geologic reservoir characterization and modeling.
Present and discuss geologic interpretations with clients, including presenting and defending work completed by others.
Demonstrated ability and experience in constructing an integrated depositional system environment interpretation based on the holistic integration of all available subsurface data: core description (to include consideration of paleontology, sedimentary structures/flow regime, sedimentary petrography/petrology, and diagenesis), log motif, petro facies, seismic facies, sequence stratigraphy, analog data, and engineering data.
Minimum Requirements:
Master's degree in Geology plus 10+ years of relevant oil and gas experience.
Demonstrated extensive experience with reservoir-mapping software and subsurface-interpretation software (e.g., Petrel®, RMS®, TerraStation®, Landmark®).
Demonstrated experience with databases to analyze voluminous data.
Ability and willingness to travel, both domestic and international.
International experience is a plus, and familiarity with international reserves and resources definition systems is desired.
U.S. work authorization is required.
DeGolyer and MacNaughton offers excellent benefits and compensation.
 Next Steps:
. If interested and qualified, submit resume with cover letter.  In your submission, indicate you are responding to the opportunity "Senior Petroleum Geologist".
Back to Careers