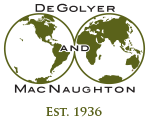 Worldwide Petroleum Consulting

Senior Reservoir Engineer – (Dallas or Houston, TX)
September 21, 2023
DeGolyer and MacNaughton (D&M) is seeking an experienced petroleum engineer to perform independent evaluations of properties, fields, and reservoirs to estimate and classify recoverable quantities as reserves or contingent resources according to multiple industry standards and communicate those results through verbal and written reporting. This individual is also expected to lead multidisciplinary teams while performing integrated reservoir studies focusing on conventional and unconventional reservoirs.
Main Roles:
Manage and coordinate projects (reserves/resources, technical studies), including taking a lead role in projects involving complex situations and ensuring that timelines are met and issues are resolved.
Mentor and review the work of junior engineers to help them advance their skills and provide them with directions to ensure that the quality of their work is accurate and consistent.
Develop/organize/contribute to internal efforts on data analytics, efficiency and quality control improvements, benchmarking, research, and new application development. Work with personnel to implement these solutions.
Develop strategies to develop new business and advance networking opportunities.
Duties:
Evaluate petroleum reservoir fluid properties, apply the principles of fluid flow through porous media, analyze data pertaining to rock properties, and estimate the recovery of hydrocarbons from subsurface reservoirs.
Evaluate oil and gas reservoirs to estimate reserves and contingent resources according to industry standards. Familiarity and experience with the Petroleum Resources Management System (PRMS), United States Securities and Exchange Commission (SEC) regulations, Canadian National Instrument 51-101, and other worldwide reserves/resources systems desired.
Utilize multiple methods for evaluation, including numerical modeling, analytical modeling, performance analysis through decline-curve analysis, material balance, and other methods of analysis. Understanding reservoir drive mechanisms, fluid characterization, fluid flow through porous media, and volumetric behavior of reservoirs and in-situ fluids is essential.
Provide recommendations for improved reservoir description processes and develop plans for data collection programs, future technology applications, and field development (e.g., well spacing) based on the results of integrated reservoir studies.
Ability to perform economic modeling and analysis of future production streams through cash flow analysis and the time value of money. Conduct quality control checks, verify the accuracy of cash flows, and perform quality control of detailed production, pricing, and cost inputs. Prepare presentations and formal written reports.
Clearly communicate results, verbally and in written form. Knowledge of proper English grammar and composition ability are essential.
Operate engineering software to complete evaluation. Experience with Aries, PHDWin, Kappa workstation, Mosaic, Citrine, OFM, MBAL, PEEP, and IHS Harmony is necessary.
Minimum Requirements:
At least a bachelor's degree in petroleum engineering from an accredited university.
At least 10 years of experience involving reservoir engineering. Working for an operator company in reserves/resources estimation is an advantage. Professional registration is encouraged if not already obtained.
Experience with projecting estimates of future production from reservoirs and evaluating the value of such streams.
Experience in writing technical reports. Presentation skills and position advocacy are recognized strengths.
Experience with databases to analyze significant quantities of data.
Experience in conventional reservoirs in North America, including fields in the Gulf of Mexico is a plus.
Experience with recent technology and workflows applied in unconventional resources play development in the U.S. is a plus.
Experience with coordinating multidisciplinary teams.
Up to 25% domestic and international travel.
U.S. work authorization.
DeGolyer and MacNaughton offers excellent benefits and compensation.
Next Steps:
If interested and qualified, submit resume with cover letter. In subject line for email, indicate you are responding to the opportunity "Senior Reservoir Engineer ".
with cover letter.
Back to Careers