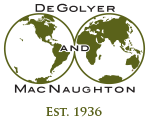 Consultoria Mundial de Petróleo e Gás

Cristo Rey and D&M
Agosto 30, 2018
For our second school year,  DeGolyer and MacNaughton has been a corporate job partner with Cristo Rey Dallas College Prep, participating in its Corporate Work Study Program. The Corporate Work Study Program is an innovative model of education that gives students a college-preparatory education while providing the opportunity to earn work experience in a corporate setting. Each year, Cristo Rey Dallas hosts an NFL-style draft that gives corporate job partners the opportunity to "draft" new students onto their corporate team. The Draft Day is a unique occasion for students to be recognized on an individual basis and to meet their new job partners.
Cristo Rey Dallas College Prep is a private, independent Catholic high school located in the Pleasant Grove area of Southeast Dallas. Cristo Rey Dallas is part of the Cristo Rey Network, the only network of high schools in the country that integrates four years of rigorous college preparatory coursework with four years of professional work experience through a corporate work study program. Comprising 35 Catholic college preparatory schools that serve approximately 11,000 students across 22 states, the Cristo Rey Network delivers a powerful and innovative approach to inner-city education, equipping students from economically disadvantaged families with the knowledge, character, and skills to transform their lives.
D&M has provided opportunities to six different Cristo Rey students through the Corporate Work Study Program. These students work 5 days a month to gain valuable skills in the areas of accounting, human resources, and business administration. Their duties span a wide range of activities, such as data entry, report processing, and other administrative activities.
"Rarely do high school students have the opportunity to learn about the oil and gas industry, so D&M's participation in the Corporate Work Study Program presents a very unique educational experience for the students," said Austin Waugh, an accountant at D&M who has served as the firm's Cristo Rey intern liaison. "Exposing the students to a professional office environment in their high school years will hopefully give them a level of familiarity with a professional office setting an advantage when it comes to pursuing job opportunities in the future."
Previous
|
Next