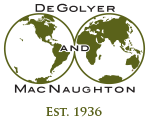 Consultoria Mundial de Petróleo e Gás

Laurie K. Benzick
Laurie K. Benzick joined DeGolyer and MacNaughton in 2010 as an associate analyst, assisting in the evaluation of reserves in various geographic regions throughout the world. Prior to joining D&M, Benzick spent 10 years working for independent operators as a geologic analyst.
Benzick earned a bachelor's degree in math and geosciences in 2000 and a master's degree in geology in 2013, both from the University of Texas at Dallas. She is a member of the American Association of Petroleum Geologists and the Dallas Geological Society.
 Geographical Experience
Algeria
Argentina
Brazil
China
Colombia
Indonesia
Mexico
Nigeria
Norway
Peru
Russia
United States
Topical Areas of Expertise
Calculating reservoir volumes using computer modeling
Log analysis
Stratigraphic and structural analysis
Major Projects
Working within the Central Europe and Asia Division, she has participated in reserves evaluations for both onshore and offshore oil and gas fields around the globe. She has experience calculating reservoir volumes, using mapping programs to develop and utilize geologic models, and managing data.