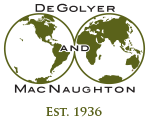 Consultoria Mundial de Petróleo e Gás

David S. Burkhalter
David S. Burkhalter joined DeGolyer and MacNaughton in 1998 after working for 17 years in the oil and gas industry and the gas pipeline sector.  Before joining D&M, Burkhalter worked 10 years for USX Corporation with its Delhi Group—a gas gathering, processing, and marketing company with more than 7,300 miles of pipeline throughout Texas, Oklahoma, and north Louisiana.  Before USX, he worked for Texas Oil & Gas Corporation for seven years as a reservoir engineer, where he estimated reserves and evaluated the economics of oil and gas prospects in Oklahoma, Mississippi, Alabama, and Texas.
Burkhalter graduated with high scholastic honors from the Colorado School of Mines in 1981 with a bachelor's degree in petroleum engineering. A member of the Society of Petroleum Engineers, Burkhalter was elected a Vice President at D&M in 2001.
Geographical Experience
Alabama
Alaska
California
Louisiana
Mississippi
Oklahoma
Texas
Wyoming
Topical Areas of Expertise
Field studies
Reserves estimations
Performance forecasting
Reserves evaluations
Unconventional reservoirs
Steamfloods/CO2 floods
Major Projects
Burkhalter has been involved in evaluating reserves for several thousand wells throughout the east Texas, north Louisiana, Mississippi, Oklahoma, and Wyoming. Several of these properties are under tertiary CO2 enhanced oil recovery operations.
He has reviewed several hundred wells in east Texas and Louisiana, mostly in the active development plays of the low-permeability Haynesville Shale, Bossier Shale, Cotton Valley sands, and Cotton Valley Bossier sands.
Since 2003, Burkhalter has also been active in evaluating oil properties in California. He has evaluated reserves for properties under thermal recovery operations for many of the fields in the San Joaquin Valley including Midway Sunset, Kern River, Belridge South, Cymric, McKittrick, and Poso Creek. He has also evaluated reserves for many of the fields in the Los Angeles Basin, and several fields in Ventura and Santa Maria Basins.
Since 2006, he has also been annually evaluating reserves in Alaska. Burkhalter has prepared reserves evaluations for most of the major Units on the North Slope including Prudhoe Bay, Kuparuk River, Colville River, Oooguruk, and Nikaitchuq, as well as most of the smaller satellite fields within those major Units. Major Units evaluated in the Cook Inlet include: North Cook Inlet, Beluga River, North Fork, Redoubt Shoal, and West McArthur River.