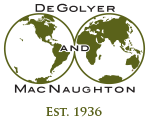 Consultoria Mundial de Petróleo e Gás

Larry C. Champlin
Larry C. Champlin joined DeGolyer and MacNaughton in 2006 as a specialist in reservoir engineering and oil and gas property evaluations, having worked in petroleum consulting since 2001.
Champlin received a bachelor's degree in petroleum engineering from Texas A&M University in 1999 and earned a master's degree in business administration from Southern Methodist University in 2005. He is a member of the Society of Petroleum Engineers and is a registered professional engineer in Texas.
Geographical Experience
Alabama
Arkansas
California
Colorado
Mississippi
Montana
Oklahoma
Saudi Arabia
Texas

Topical Areas of Expertise
Fair market value assessments
Waterflooding
Project economics
Tight gas sands
Reserves evaluations
Pipeline planning
Carbon dioxide flooding
Unconventional reservoirs

Major Projects
Champlin has carried out reserves estimation and economic evaluations for oil and gas fields in various areas of the U.S., including East Texas Cotton Valley, West Texas Permian Basin, Montana, and South Dakota's Williston Basin, and enhanced recovery operations in Alabama and Mississippi.
Champlin has experience in waterflood and tertiary CO2 operation evaluations in Alabama and Mississippi. He also performs production and economic analysis using PHDWin and ARIES performance software.
Prior to his association with D&M, Champlin carried out economic evaluation of reserves projections for multiple units in Kern, Orange, Sacramento, and Solano Counties, California. He annually estimated producing reserves and projected economics for oil and gas properties in various fields in California and more than 2,300 oil and gas properties in the Fort Worth Basin, Permian Basin, Mid-Continent, and Gulf Coast areas in Texas.
He has performed annual inspections for valuation of cryogenic facilities, gas plants, fractionation facilities, lean oil facilities, and gas storage sites.
Champlin has assisted with appraisals of machinery and equipment in the following industries: crude oil and natural gas gathering and transmission, fractionation, oil and gas exploration and production, natural gas treating and liquids processing, and natural gas and natural gas liquids storage.