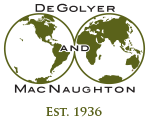 Consultoria Mundial de Petróleo e Gás

Sean M. Cook
Sean M. Cook is a petroleum engineer with DeGolyer and MacNaughton, joining the firm in 2005.
Cook graduated from the University of Texas at Austin in May 2005 with a bachelor's degree in petroleum engineering and a minor in business foundations. Cook's discipline within his major was operations, which required courses such as production technology and design, advanced drilling, reservoir engineering, and well logging. Cook is a member of the Society of Petroleum Engineers.
Geographical Experience
Argentina
Chile
China
Colombia
Equatorial Guinea
India
Indonesia
Mexico
Middle East
Russia
Ukraine
United States
Saudi Arabia
Venezuela

Topical Areas of Expertise
Reservoir engineering
Waterflooding
Field studies
Gas fields
Material balance
Project economics
Major Projects
For the complex offshore project in Equatorial Guinea, Cook implemented a waterflood analysis to determine which sands saw water breakthrough in order to estimate mobility and productivity. He used multiple diagnostic methods to evaluate performance trends and estimate reserves appropriate to the drive mechanism present. Cook also is adept using nodal analysis and material-balance analysis tools to assess field and well deliverability for forecasting future production.