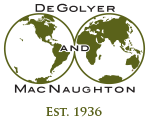 Consultoria Mundial de Petróleo e Gás

David M. Delgado
David M. Delgado is an engineer and international petroleum economist with DeGolyer and MacNaughton, joining the firm in 2005. Prior to working for D&M, he worked for Schlumberger. Before that he was with ChevronTexaco Oil and Gas Company for 20 years. Delgado has extensive experience in economic evaluations in most petroleum producing countries.
Delgado earned a bachelor's degree in chemical engineering from the University of Texas at Austin in 1970 and a master's degree in engineering degree from Lamar University in 1975. He is a member of the Society of Petroleum Engineers.
Geographical Experience
Africa
Indonesia
Kurdistan
Middle East
Netherlands
Norway
United Kingdom
Venezuela
Topical Areas of Expertise
Economic evaluations
Economic modeling
Foreign tax regulations
Production sharing contracts
Sales agreements
 Major Projects
Delgado has participated in helping establish the fair market value of numerous properties throughout the world. He has analyzed concession agreements in many petroleum-producing provinces throughout the world. Delgado has in-depth knowledge of production sharing and service contracts, particularly in Asia, Africa, the Middle East, and Europe.
Delgado has carried out economic evaluations for over a dozen fields in Kurdistan and Romania, from small single-well discoveries to the largest producers in the region.
He is adept at developing economic models that assist in the appraisal of international oil and gas properties, including foreign taxation of petroleum interests, and he carries with him the knowledge he has accumulated through 10 years of residence in the United Kingdom and Venezuela and short stays in most petroleum-producing countries.