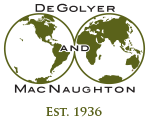 Consultoria Mundial de Petróleo e Gás

Thomas G. D'Ortona
Tom G. D'Ortona joined DeGolyer and MacNaughton in 2012 as a petroleum engineer. His focus is working in the estimation of reserves and contingent resources in the Europe/Africa Division. Prior to working for D&M, D'Ortona worked at the University of Texas at Austin as a member of the research lab staff in the Center for Petroleum and Geosystems Engineering, where he specialized in chemical EOR methodologies.
D'Ortona graduated from the University of Texas at Austin with a bachelor's degree in petroleum engineering in 2011. D'Ortona is a member of the Society of Petroleum Engineers.
Geographical Experience
Algeria
Angola
Austria
Cameroon
Congo
Denmark
Ethiopia
France
Italy
Ivory Coast
Mozambique
Nigeria
Norway
Oman
Romania
Saudi Arabia
Turkey
United Kingdom
Vietnam

Topical Areas of Expertise
Chemical flooding
Probabilistic analysis
Waterflooding
Secondary recovery methods

Major Projects
D'Ortona has estimated reserves using a variety of techniques, including various material-balance methods, decline-curve analysis, probabilistic analysis, and volumetric estimation. He has used these methods to estimate reserves in both gas and oil fields with a wide variety of drive mechanisms and production schemes, such as water injection fields, gas storage fields, gas injection fields, and depletion fields.