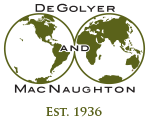 Consultoria Mundial de Petróleo e Gás

Tad M. Fielder
Tad M. Fielder joined DeGolyer and MacNaughton in 2006 specializing in reservoir engineering and oil and gas property evaluation. Fielder has extensive experience in the estimation of reserves and resources based on the requirements of the United States Securities and Exchange Commission (SEC) and the Petroleum Resources Management System (PRMS). Fielder has developed and conducted industry seminars on the estimation, classification, and categorization of reserves and resources under the SEC and PRMS.
Fielder received a bachelor's degree in petroleum engineering from Texas A&M University in 2000. A registered professional engineer in the State of Texas, member of and Certified Petroleum Engineer with the Society of Petroleum Engineers, and member of the Society of Petroleum Evaluation Engineers, Fielder was elected a Vice President at D&M in 2009. 
Geographical Experience
Australia
Bolivia
China
Colombia
India
Indonesia
Malaysia
Mexico
New Zealand
Peru
Thailand
Vietnam
Topical Areas of Expertise
Fair market value appraisals
Gas-deliverability modeling
Material-balance calculations
Tight oil and gas reserves
Volumetric estimations
Waterflood projects
Major Projects
Fielder has estimated oil and gas reserves and contingent resources using industry-standard engineering methods including decline-curve analysis, fractional flow analysis, material-balance modeling, and deliverability modeling. He has evaluated reserves and contingent resources for a variety of oil and gas reservoirs, many of which have used improved and enhanced recovery operations including steam flood, waterflood, and pressure maintenance. He has evaluated complex reservoirs, including conventional tight oil and gas reservoirs, fractured carbonate reservoirs, chalks, shale gas, and coalbed methane reservoirs.
Fielder has coordinated global reserves and resources evaluation projects. He has led D&M teams to evaluate potential acquisition and divestiture projects in China, Indonesia, Malaysia, PNG, and Vietnam.
Prior to joining D&M, Fielder carried out evaluations of reserves and project economics of oil and natural gas properties in major producing areas of Texas, Oklahoma, Kansas, and California. Fielder performed a variety of valuation assignments, including fair market value appraisals, ad valorem tax appraisals, asset sales allocations, and business and stock valuations.
Fielder has designed drilling programs and casing and tubing strings and has selected depths, phase, and other shot specifics for perforation. He has coordinated and supervised drilling and recompletion of oil and gas wells for various clients. He has performed reservoir analysis to help optimize waterflood and infill drilling projects and proved undeveloped drilling locations.