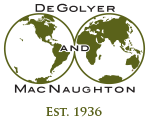 Consultoria Mundial de Petróleo e Gás

Michael A. Fox
Michael A. Fox began working with DeGolyer and MacNaughton in 2006. He applies his over three decades of experience as a consulting geologist, development geologist, and log analyst to projects worldwide.
Fox received a bachelor's degree in geological sciences in 1982 and a master's degree in energy and mineral resources in 1984, both degrees from the University of Texas at Austin. Fox is a certified petroleum geologist and Texas Licensed Geologist. He is a member of the American Association of Petroleum Geologists, the Society of Professional Well Log Analysts, the Society of Exploration Geophysicists, and the Houston Geological Society. Fox has been an officer in local petroleum societies and a delegate to the American Association of Petroleum Geologists.
Geographical Experience
Algeria
Bahrain
Kuwait
Nigeria
Peru
Russia
Saudi Arabia
United States
Topical Areas of Expertise
Geocellular modeling
Reservoir characterization
Volumetric evaluation
Well correlation and subsurface mapping
Field development planning
Well-log analysis
Major Projects
Since joining D&M, Fox has worked on projects worldwide including integrated field development studies, geologic reservoir characterization of oil and gas fields, and volumetric quantification. Skills and duties include sequence stratigraphic evaluation, core description, geologic modeling, and wellbore planning.
For over 10 years, Fox has been the lead geologist in a long-term planning review for assets in Kuwait. In this project, all discovered and producing reservoirs in Kuwait were examined to identify the maximum upside potential for the hydrocarbons initially in place and their estimated ultimate recoverable resources. This study also examined the undiscovered potential in all of Kuwait. The project involved correlating all formations in all wells in Kuwait, mapping and updating existing field maps, and core description of most formations in most every field across all of Kuwait. Mapping and core description went into volume quantification and probabilistic volumetrics.
Other projects with the Reservoir Studies Division involved formation zoning, mapping, reservoir characterization, and reservoir model construction of fields in Algeria, Bahrain, Kuwait, Peru, and Russia.
Prior to his association with D&M, Fox worked as a senior geologist and in that capacity conducted numerous field studies. He was also part of a development team that mapped multiple pay sand fields, booked behind-pipe reserves, and developed drilling prospects in various Louisiana fields. He was involved in modeling several Gulf Coast reservoirs for waterflood pattern optimization and mapping reservoirs for equity determination. He has also performed field and reservoir modeling studies of fields in the Texas Panhandle, Oklahoma, and East Texas.