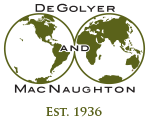 Consultoria Mundial de Petróleo e Gás

Julian P. Garcia
Julian P. Garcia, Jr. joined DeGolyer and MacNaughton in 1991, bringing with him extensive experience with reserves evaluation projects worldwide. From 1982 through 1990, Garcia worked as a reservoir engineer at Sun E&P Company (later Oryx Energy Company). He is now a Vice President and Assistant Manager of the Asia Pacific / Latin America Division.
Garcia graduated from Texas A&M University in 1982 with a bachelor's degree in petroleum engineering and earned a master's degree in petroleum engineering from A&M in 1988. Garcia is a registered professional engineer in Texas and a member of the Society of Petroleum Engineers.
Geographical Experience
Algeria
Australia
Bangladesh
Bolivia
China
India
Indonesia
Mozambique
Russia
Saudi Arabia
Yemen
Topical Areas of Expertise
Reservoir engineering
Reservoir simulation
Gas reservoirs
Major Projects
Garcia has been an integral part of teams conducting reservoir engineering studies, reserves appraisals, and reservoir simulations of oil and gas fields worldwide. Garcia has conducted oil and gas reserves estimation, property appraisals, and gas deliverability studies of many fields in Indonesia, including several major fields in East Kalimantan and Sumatra.
In China, he has performed annual reserves estimation studies since 1999 on extensions of existing fields due to new drilling. In Australia, he has carried out several reserves estimation studies and appraisals of offshore gas and oil fields.
Garcia has also performed a reserves study of several fields in North Africa to determine the viability of a proposed LNG project.