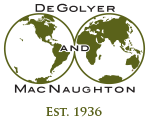 Consultoria Mundial de Petróleo e Gás

Gaines Gibson
Gaines Gibson joined DeGolyer and MacNaughton in 2018 as an associate engineer. Prior to joining DeGolyer and MacNaughton, Gibson worked for Schlumberger Wireline as a field engineer and district manager.
Gibson earned a bachelor's degree in chemical engineering from the University of Alabama in 2013, graduating magna cum laude. He is a member of the Society of Petrophysicists and Well Log Analysts.
Geographical Experience
Topical areas of Expertise
Petrophysical analysis of wireline logs
Open-hole and cased-hole logging tool theory and operation
Log quality control

Major Projects
Gibson focuses on well evaluation based on the interpretation of logs and core data. He is a regular user of Techlog for petrophysical analysis.
As a wireline field engineer with Schlumberger, Gibson supervised over 500 open-hole and cased-hole operations in a variety of lithologies. He led complex wireline operations for both large and smaller clients, including those where specialized logging was required. In addition, he performed quick look and log analysis in the field. Gibson received extensive training in tool measurement theory, tool calibration, tool operation, and troubleshooting to ensure log quality control. He was also heavily involved in field-testing new technologies, including the next-generation pulsed neutron tool. In 2017, he moved to South Texas as district manager and oversaw operations in a diverse range of environments.