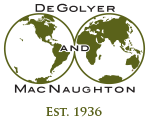 Consultoria Mundial de Petróleo e Gás

Steven R. Gilbert
Steven R. Gilbert joined DeGolyer and MacNaughton in 1983, specializing in reserves estimations, production forecasting, gas deliverability modeling, and economic evaluations of oil and gas fields worldwide. Before joining D&M in 1983, Gilbert was a reservoir engineer for Exxon Company, U.S.A., initially responsible for several south Texas oil and gas fields.
Gilbert graduated magna cum laude in petroleum engineering from the University of Missouri-Rolla in 1976, and is a registered professional engineer in Texas. A member of the Society of Petroleum Engineers and the Society of Petroleum Evaluation Engineers, he was named a Senior Vice President at D&M in 2015.
Geographical Experience
Algeria
Austria
Bolivia
China
France
Gabon
Germany
India
Indonesia
Italy
Kazakhstan
Kuwait
Libya
Mexico
Nigeria
North Sea
Pakistan
Russia
Serbia
Thailand
Ukraine
United States (onshore and offshore)
Venezuela
Yemen
Topical Areas of Expertise
Performance-trend and material-balance analysis.
Tight gas and overpressured reservoirs
Volumetric estimations
Project economics
Gas deliverability modeling
Major Projects
Gilbert is currently a senior staff engineer in the North America Division, focusing on reserves evaluations of offshore fields in the Gulf of Mexico, including many deepwater fields. He has performed evaluations for fields in the Federal offshore lease areas on the continental shelf offshore Louisiana and the deepwater lease areas of Mississippi Canyon, Green Canyon, Keathley Canyon, Walker Ridge, and East Breaks. Prior to his current assignment, he coordinated multidisciplinary teams involved in reserves evaluations and gas deliverability studies in many different areas throughout Europe, Africa, southeast Asia, the Middle East, and Russia.
Many different clients have relied on Gilbert's expertise in order to provide gas reserves certifications necessary to establish or modify important long-term gas sales agreements. He has performed special studies to support the financing of existing and future LNG projects in both the Middle East and Africa. For example, in Yemen, he evaluated gas reserves in 24 fields on 2 major blocks as part of a planned LNG project. Since most of the reserves were associated with gas caps that have undergone long-term cycling operations, the project required a detailed evaluation of the effects of cycling on the composition of gas remaining in the reservoirs. This study led to the successful financing, construction, and start-up of the plant.