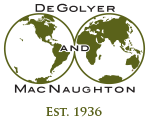 Consultoria Mundial de Petróleo e Gás

Christine A. Glatz
Christy A. Glatz joined DeGolyer and MacNaughton in 2011, as a geologist specialist in reservoir characterization and 3-D geocellular modeling. Prior to joining D&M, she worked for 7 years as a geologist for Schlumberger Oilfield Services in Algeria, the United Kingdom, and the United States.
Glatz earned a bachelor's degree in geology from the University of Maine in 2003. She earned her master's degree in petroleum geoscience in 2015 from the University of London. She is a licensed professional geoscientist in the State of Louisiana. She is a certified petroleum geologist and a member of the American Association of Petroleum Geologists (AAPG). She was elected a Vice President of D&M in 2015.
Geographical Experience
Algeria
Ghana
India
Kazakhstan
Kuwait
Mauritania
The North Sea
Norway
Russia
Senegal
Suriname
Tunisia
Ukraine
United Arab Emirates
United Kingdom
United States
Yemen
Topical Areas of Expertise
Petrel 3-D reservoir modeling
Geostatistics
Integrated reservoir studies
Clastic and carbonate reservoir characterization
Stratigraphic interpretation
Depositional systems
Reserves estimation and uncertainty analysis
Geological mapping
Field development planning
Equity determinations
Major Projects
Glatz has more than 10 years of experience in building advanced structural and property models that integrate seismic, well log, and production data used as a basis for reservoir optimization strategies, field development planning, reservoir simulation, volumetric evaluation, and engineering analyses.
Geologic interpretation and reservoir characterization of Algerian reservoirs; Triassic, Silurian, Devonian, Ordovician, and Cambrian in the Illizi and Trias Basins of Algeria.
Performed detailed studies to optimize reservoir production and field development planning of Algerian and the UAE reservoirs.
Before joining D&M, Glatz worked for Schlumberger Oilfield Services, accumulating extensive experience in reservoir characterization and geocellular modeling. She worked internationally in multi-disciplinary teams on exploration, appraisal, and field development projects. Glatz is an internationally recognized, Schlumberger-certified Petrel instructor who has taught numerous Petrel software courses such as Uncertainty Analysis, Seismic Visualization and Interpretation, Structural Modeling, and Property Modeling to employees of major operators worldwide.