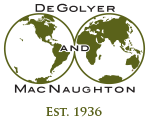 Consultoria Mundial de Petróleo e Gás

Gregory K. Graves
With over three decades of experience in the global energy industry, Gregory K. Graves brought this expertise to DeGolyer and MacNaughton in 2006 when he joined the firm. He currently serves as Senior Vice President and Manager for the firm's North American Division. Prior to arriving at D&M, Graves worked at Devon Energy Corporation from 1994 through 2003.
Graves earned a bachelor's degree in petroleum engineering from the University of Texas at Austin in 1984. He completed post-baccalaureate studies at the University of Houston in 1986. He is a licensed professional engineer in the State of Texas and a member of the Society of Petroleum Engineers and the Society of Petroleum Evaluation Engineers.
Geographical Experience
Algeria
Argentina
Australia
Azerbaijan
Brazil
Canada
China
Egypt
Indonesia
Mexico
Peru
Qatar
Russia
Syria
Tunisia
United States
Venezuela
Vietnam
Topical Areas of Expertise
Petroleum economics
Regulatory and financial reporting guidelines
Risk analysis
Unconventional reservoirs
Major Projects
Graves has worked with numerous clients with interests across all of North America's hydrocarbon basins. In addition to extensive conventional experience, he has evaluated interests in unconventional plays in the: Antrim, Bakken, Barnett, Bone Spring, Eagle Ford, Fayetteville, Haynesville, Horn River, Marcellus, Monterey, Montney, Niobrara, Spraberry, Three Forks, Utica, Wolfcamp, and Woodford Shales, as well as numerous tight gas sands.
Graves has led teams that provided reserves estimates for numerous major and independent oil companies, national oil companies, investment banks, and private equity firms.
During his tenure at D&M, Graves has prepared reserves estimates for publicly traded and private companies for onshore and offshore oil and gas fields in compliance with the United States Securities and Exchange Commission, Canadian National Instrument 51-101, and Petroleum Resources Management System guidelines.