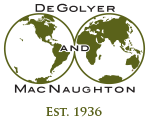 Consultoria Mundial de Petróleo e Gás

Sergey S. Gusev
Sergey S. Gusev joined DeGolyer and MacNaughton's Moscow office in 2018. Prior to joining D&M, Gusev was a senior petrophysicist at VNIIneft.
Gusev graduated from Tomsk State University with a degree in applied mathematics in 2008. He received a master's degree in offshore oil and gas engineering from Robert Gordon University in 2014. Gusev is fluent in Russian and English.
Geographical Experience
Cuba
Iran
Iraq
Russia
Sudan
Vietnam
Topical Areas of Expertise
Formation evaluation in clastic and carbonate reservoirs
Integration of petrophysical evaluations into geological models and reservoir simulations
Integration of core analysis, geological, and well-test data into petrophysical models
Geomechanical modeling

Major Projects
Gusev has experience in deterministic and probabilistic petrophysical evaluations of clastic and carbonate reservoirs, freshwater reservoirs, and low-resistivity pay. He has worked with all of the major types of logs, including nuclear magnetic resonance, dipole sonic, borehole image, dielectric resistivity, elemental spectroscopy, wireline formation tester data, and LWD.
At D&M, Gusev specializes in working with multi-disciplinary project teams to provide petrophysical evaluations integrated with geological and engineering results.