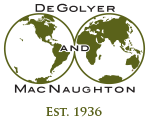 Consultoria Mundial de Petróleo e Gás

Christina Jones
Christina Jones joined DeGolyer and MacNaughton in 2017 as an associate petrophysicist. Her prior experience was with Wireline and Data and Consulting Services with Schlumberger as an open-hole field engineer and petrophysicist.
Jones earned a bachelor's degree in geological oceanography from the University of Rhode Island in 2005, and a master's degree in geology from Kansas State University in 2008. She is a member of the American Association of Petroleum Geologists (AAPG), the Oklahoma City Geological Society (OCGS), Dallas Geological Society (DGS), and the Society of Petrophysicists and Well Log Analysts (SPWLA).
Geographical Experience
Algeria
Russia
Ukraine
United States
Topical Areas of Expertise
Petrophysical analysis using advance log measurements (geochemical (ECS), combinable magnetic resonance (CMR), and dielectric)
Integration of basic log measurements with core and advance logging tool measurements
Unconventional reservoirs
Open-hole logging tool theory and operation
Major Projects
With D&M, Jones has evaluated reserves for various reservoirs in Algeria, Ukraine, and Russia, including Eastern Siberia, using Techlog petrophysical software based on Russian logs, basic logs, core data, and test results.
As a petrophysicist at Schlumberger, she has analyzed log types including basic open-hole logs, NMR, geochemical, dielectric, image logs, and acoustic. She has extensive experience interpreting unconventional shale gas and tight oil and gas reservoirs in the United States (Barnett, Fayetteville, Haynesville, Woodford, Caney, Marcellus, Utica, Wolfcamp, Bone Springs, and Mississippian Lime). In addition, she taught internal Schlumberger short courses in ECS and CMR wireline tools and their application in conventional and unconventional reservoirs. Before working as a petrophysicist, Jones learned open-hole logging operation, tool theory, and troubleshooting for log quality control as an open-hole field engineer with Schlumberger.