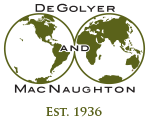 Consultoria Mundial de Petróleo e Gás

Dewi Larasati
Dewi Larasati joined DeGolyer and MacNaughton in 2018 after gaining 24 years of experience in petroleum exploration, operation, and development. Prior to joining D&M, Larasati worked at ConocoPhillips, Premier Oil Natuna B.V., and Amoseas Indonesia Inc.
Larasati earned a bachelor's degree in geology in 1988 from Institut Teknologi Bandung, Indonesia. She is a Certified Petroleum Geologist and a member of the American Association of Petroleum Geologists and the Houston Geological Society.
Geographical Experience
Topical Areas of Expertise
Clastic and carbonate reservoir characterization
Shale reservoir characterization
Integration of subsurface and dynamic data
Prospect identification
Field development primary and secondary recovery
3–D geocellular modeling
Well planning and geologic operations
Production optimizations

Major Projects
Prior to joining D&M, Larasati worked as a development geologist with ConocoPhillips. During her time with ConocoPhillips in Houston, Larasati added reserves, optimized oil recoveries, identified new development opportunities through reservoir characterizations, resources assessment, and field development planning, and conducted well placement and data acquisition of carbonates and clastic reservoirs in several areas within the Permian Basin in New Mexico, United States. She built 3–D geocellular models for reservoir simulation for the purpose of secondary recovery optimizations and development plans.
Before transferring to Houston, she worked within a multidisciplinary team at ConocoPhillips Indonesia to develop clastic fluvial deltaic reservoirs in the West Natuna Basin, Indonesia. She completed 3–D geocellular models based on geostatistical and deterministic models to characterize subsurface uncertainty in volumetric estimation and to identify sufficient reserves for a gas export agreement.