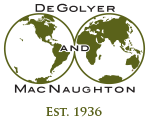 Consultoria Mundial de Petróleo e Gás

Thomas J. Marusa
Thomas J. Marusa joined DeGolyer and MacNaughton in 1996, bringing extensive experience in seismic acquisition and analysis, which he uses in the evaluation of international oil and gas properties. Prior to working for D&M, he worked for Mobil Oil.
Marusa graduated from Oklahoma State University in 1978 with a bachelor's degree in agricultural business. In 1992, he earned an M.B.A. degree in business management from the University of Dallas. Marusa is a member of the Society of Petroleum Engineers and was elected a Vice President at D&M in 2007.
Geographical Experience
Algeria
Australia
Azerbaijan
Congo
Ecuador
Egypt
Kazakhstan
Kuwait
Mozambique
Nigeria
Qatar
Russia
Sudan
Turkmenistan
Ukraine
Uzbekistan
Yemen
Topical Areas of Expertise
Fair market analysis
Russian and FSU fiscal systems
Cash-flow analysis
Economic modeling
Reporting and regulatory guidelines
Major Projects
Marusa has completed reserves evaluations, including foreign taxation of petroleum interests, for major Russian petroleum companies and their multiple subsidiaries. This includes evaluating the capital expenses, operating conditions, and fiscal policies that influence the value of each field, and examining the cash flows that are gathered from a client's existing or proposed oil and gas projects.
He has worked with many Russian companies and has developed a superior understanding of Russian oil and gas laws. His extensive experience with projects in the FSU countries has also contributed to his understanding of oil and gas laws in these countries.
He has contributed to evaluations that have established the fair market value for various petroleum assets and which have assisted international oil and gas companies in their initial filings for American and foreign financial markets.