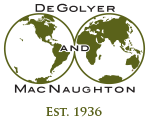 Consultoria Mundial de Petróleo e Gás

D. Scott McGregor
D. Scott McGregor joined DeGolyer and MacNaughton in 1985 as a reservoir simulation engineer. Over the past 30 years, McGregor has worked on all levels of reservoir simulation projects, from building basic geologic models, to reservoir characterization, to reservoir modeling, as well as managing entire multi-discipline projects.
McGregor received a bachelor's degree in petroleum engineering from Texas A&M University in 1983. He then completed 2 years of graduate school before joining D&M. A registered professional engineer in Texas, McGregor is a member of the Society of Petroleum Engineers. He was elected a Vice President at D&M in 1990, Senior Vice President in 2011, and was named Assistant Manager of the Reservoir Studies Division in 2011.
Geographical Experience
Algeria
Argentina
Kazakhstan (Pre-Caspian Basin)
Libya
North Sea
Oman
Russia (Western Siberia)
Yemen
Topical Areas of Expertise
Mature waterflood, gasflood, and water-alternating-gas (WAG) studies
Experience managing and coordinating multidisciplinary project groups for FDP studies
Geocellular modeling
Reservoir modeling
Major Projects
McGregor has more than 30 years of reservoir engineering and simulation experience, including 15 years in Russia's Western Siberia Basin. He has built simulation models in many parts of the world, including: Algeria, Russia, the Middle East, the North Sea, and Argentina. These studies varied from mature waterflood analysis, to multidiscipline integrated studies, to peer-reviews of field development planning (FDP) projects.
Since 2000, McGregor has been coordinating large multi-field projects at D&M. From 2004 to 2012, he coordinated multidiscipline, multi-field FDP projects in Algeria. During this time, over 20 professionals worked on performing a petrophysical evaluation for over 1,500 wells, integrating 3–D seismic data into multiple full-field geocellular models, optimizing mature gasflood, and developing full-field reservoir models. In Algeria, McGregor supervised the evaluation of a WAG pilot project using a fully compositional model that resulted in changing the FDP from periphery waterflood and crestal gas injection to a full-field miscible WAG process. Other fully compositional modeling projects include modeling gas-cycling for gas reservoirs, and miscible gasflood and EOR for oil reservoirs.
Since 2012, McGregor has coordinated D&M's reservoir modeling studies in Russia. He has supervised multidisciplinary teams in the evaluation of field development activities across West and East Siberia and Kazakhstan.