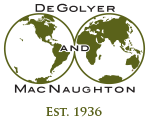 Consultoria Mundial de Petróleo e Gás

Gary L. McKenzie
Gary L. McKenzie joined DeGolyer and MacNaughton in 1985, and currently is Senior Vice President and Manager of the firm's Central Europe / Asia Division focusing on Russia and the countries of the former Soviet Union. An authority on reserves assessment, he conducts engineering studies and coordinates multidisciplinary teams involved in reserves evaluation worldwide. Prior to joining D&M, he worked for Exxon Company USA in Texas.
He graduated from the U.S. Military Academy at West Point in 1976 with a bachelor's degree in engineering. As a commissioned officer in the U.S. Army, McKenzie served in the aviation and field artillery branches before being honorably discharged in 1981 with the rank of Captain. He is a licensed professional engineer in Texas and a member of the Society of Petroleum Engineers and the Society of Petroleum Evaluation Engineers.
Geographical Experience
Algeria
Australia
Barbados
Canada
Colombia
Ecuador
India
Italy
Kazakhstan
Malaysia
New Zealand
Norway
Pakistan
The Philippines
Russia
Trinidad
Ukraine
United States
Uzbekistan
Venezuela
Topical Areas of Expertise
SEC reserves-reporting requirements
Field development studies
Reserves estimation
Seminar training
Property appraisal
Gas deliverability
Waterflood recovery
Major Projects
McKenzie has served as Project Leader and reservoir engineer on numerous major gas and oil reserves appraisals throughout the world. He has most recently performed several studies to support capitalization of several large Russian petroleum companies.
In Indonesia, he has managed studies that provided support for development and deliverability planning, financing, equity determination, and regulatory reporting for projects dedicated to the domestic gas market, as well as the gas and LNG export markets. He has also studied the gas potential in the harsh thermal environment of the Pattani Basin in the Gulf of Thailand for a major gas pipeline project. He managed a major study of gas reserves in the Gippsland Basin, offshore Victoria, Australia, in support of a large gas sales contract. He has also performed studies in Miocene, turbidite formations in Italy and the Adriatic Sea.
His early D&M projects included evaluating reserves, projecting production, and analyzing the economics of properties in the Gulf of Mexico and Alabama, Alaska, Arkansas, California, Florida, Louisiana, Mississippi, and Texas. McKenzie has represented sellers and potential purchasers on several large property sales. He has assessed the hydrocarbon potential in clastics, carbonates, salt domes, and coal beds. He has also studied tight gas reservoirs, waterfloods, tertiary recovery projects, geopressured formations, and gas cycling projects.
He has conducted seminars for multinational oil companies and government associations in SEC reserves compliance and SPE reserves estimations guidelines. He has made presentations to lending institutions and government representatives and is experienced in the determination of fair market value.