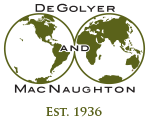 Consultoria Mundial de Petróleo e Gás

Justin K. Newman
Justin Newman joined DeGolyer and MacNaughton in 2012, having completed two successful internships with the firm. Since arriving at D&M, he has focused primarily on the geological aspects of oil and gas field and reservoir studies, as well as reserves estimation and classification based on geology and geophysics.
Newman received a bachelor's degree in geology in 2009 and a master's degree in geology in 2012 from the University of Oklahoma. Newman is a member of the American Association of Petroleum Geologists, the Society of Petroleum Engineers, and the Geological Society of America. 
Geographical Experience
Azerbaijan
Kazakhstan
Kuwait
Russia
Saudi Arabia
Turkmenistan
Ukraine
Uzbekistan

Topical Areas of Expertise
Petrophysical analysis
Stratigraphic and structural analysis
Mapping
Gas reservoirs
Gas condensate
Reservoir characterization

Major Projects
Newman has experience calculating reservoir volumes, using computer technology to develop and utilize geologic models and manage data. He has evaluated reservoirs in all types of depositional environments and basins. He is also proficient at traditional geologic practices, including reservoir description, log correlation, and cross-section construction, as well as various mapping methods.
He has worked on many oil and gas fields in Western Siberia and Orenburg and has experience in the Volga-Urals region of Russia.
He has experience with heavy-oil fields in Kazakhstan that are productive in Jurassic and Cretaceous sandstones.
He is responsible for integrating petrophysical, engineering, and well control information with geophysical data to create structure and isopach maps. The resulting structural and stratigraphic field models are then used to develop estimates of oil and gas reserves. In addition to his skills in log analysis and traditional mapping techniques, Newman also uses various computer mapping programs, including Petrel, GST, and TechLog software to assist in the reserves evaluation.