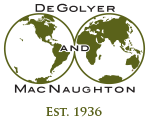 Consultoria Mundial de Petróleo e Gás

Tioluwanimi O. Olunowo
Tioluwanimi Olunowo joined DeGolyer and MacNaughton in 2012, focusing on reservoir engineering and simulation of various international oil and gas reservoirs.
Olunowo received a bachelor's degree with honors in petroleum engineering from the University of Ibadan in 2007. In 2012, he was awarded a master's degree in petroleum engineering from Texas A&M University. He is a member of the Society of Petroleum Engineers and a registered professional engineer in the State of Texas.
Geographical Experience
Algeria
Brazil
Bulgaria
Colombia
Congo
Ghana
India
Kazakhstan
Libya
Mozambique
Nigeria
Russia
Ukraine
United States
Topical Areas of Expertise
Reservoir simulation (ECLIPSE 100 & 300, CMG, NEXUS, and VIP)
Field development planning for oil and gas fields
Dynamic data analysis
Waterflooding analysis/evaluation
Type-well modeling
PVT fluid characterization
Major Projects
Olunowo has worked on multiple fields in Russia, Kazakhstan, and Ukraine (former Soviet Union). On these studies, he applied his engineering skills in production data analysis, history-matching, production forecasting, and waterflood performance analysis in support of field development planning activities for the management of oil and gas reservoirs spanning different degrees of heterogeneity, types of drive mechanisms, and stages of development.
Olunowo conducted reservoir simulation studies to investigate multiple development scenarios for a heavy-oil and two light-oil and gas fields in Ghana to aid commerciality evaluation. Olunowo's simulation experience also extends to the Niger-Delta Basin in Nigeria, where he conducted studies in support of reserves evaluation of an offshore oil and gas reservoir. Olunowo has also conducted technical studies in support of field development planning and activities in tight oil fields in the lower Congo Basin and gas fields in the Mozambique Basin.
For a brown field in east Texas, Olunowo performed an integrated field development study, constructing geocellular and simulation models to help the client determine the recovery potential of applying a waterflood development scheme to the field. Olunowo also performed EOS fluid characterization studies for a number of large reservoirs in Algeria.