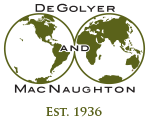 Consultoria Mundial de Petróleo e Gás

Shiv Prakash Ojha
Shiv Prakash Ojha joined DeGolyer and MacNaughton in 2018 as a petroleum engineer in the Reservoir Studies Division. Prior to joining D&M, Ojha worked for three years as a reservoir engineer at Cairn India Ltd.
Ojha completed his bachelor's degree in Petroleum Engineering from Indian Institute of Technology (Indian School of Mines), Dhanbad, India in 2012. He graduated with a master's degree in Petroleum Engineering from the University of Oklahoma in December 2017. He is a member of the Society of Petroleum Engineers (SPE) and the Society of Petrophysicists and Well Log Analysts (SPWLA).
Geographical Experience
India (onshore)
United States (onshore)

Topical Areas of Expertise
Optimization of artificial lift, including jet pumps and ESPs
Production network modeling
Production logging and pressure transient analysis
Reporting of reserves and resources estimates per SPE-PRMS guidelines
Major Projects
Ojha worked on optimization of artificial lift performance during his work at Cairn India Ltd. He worked on the improvement and application of modeling workflows for jet pumps and ESPs for production optimization on an onshore field. Simultaneously, he performed interpretation of reservoir surveillance data for a waterflood that included production logs and pressure transient analysis. Additionally, he worked on the identification of bottlenecks in a surface production network.
He has experience in history matching and performance prediction using commercial reservoir simulation software for conventional and unconventional resources. He also worked on the reporting of reserves and resources for an operator's portfolio for two years.
During his graduate research at the University of Oklahoma, he worked on the interpretation of petrophysical measurements using percolation theory and the application of data mining for rock typing in unconventional reservoirs.