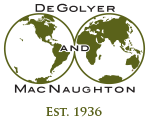 Consultoria Mundial de Petróleo e Gás

Tram Pham
Tram Pham joined DeGolyer and MacNaughton in 2004 as a specialist in computer programming and database design. In this role, she writes reporting applications for reserves forecasting and economic evaluations and designs and develops a variety of databases that help staff manage projects and collect field information. She also manages and updates the company intranet and helps implement Sharepoint sites for specific needs. She is experienced with multiple programming languages and software applications such as VB.NET, ASP.NET, SQL Server, Microsoft Access Database and VBA, Microsoft Excel Macro, PHDWin, and Sharepoint.
Pham has worked extensively with D&M's PHDWin economic and decline-curve software to support North American and international projects and has developed applications to publish D&M reports out of PHDWin. Pham has also provided programming support for some of D&M's largest clients. She has designed and now manages D&M's historical database and related programs that collect, store, aggregate, and display field and project information from past and current projects. In Sharepoint, Pham created the D&M Knowledge Base, an internal website that enables internal experts to share information.  
Prior to joining D&M, from 1999 to 2003, Pham worked for Alcatel, a large telecommunications company. As a software engineer, she specialized in database management and utilities programs for national and international software loads on telephone switches, and developed reporting programs on systems and network performance.
Pham graduated magna cum laude from the University of Texas at Dallas in 1998 with a bachelor's degree in computer science. She earned a master's degree in computer science from the University of Texas at Dallas in 2001.