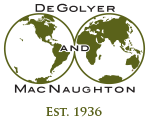 Consultoria Mundial de Petróleo e Gás

Eric M. Prasse
Eric M. Prasse served 15 years as a petrophysicist and geologist with Mobil Oil Company before joining DeGolyer and MacNaughton in 1998.
Prasse received a bachelor's degree in geology from Rice University in 1976 and a master's degree in geology from Texas A&M University in 1978. He is a member of the Society of Petroleum Engineers and a member and former officer of the Society of Professional Well Log Analysts and the American Association of Petroleum Geologists. He is a professional geologist in the State of Texas and an AAPG-certified petroleum geologist. Prasse became a Vice President at D&M in 2000.
Geographical Experience
Australia
Indonesia
Kuwait
North Sea
Russia
Saudi Arabia
United States
Venezuela
West Africa
Topical Areas of Expertise
Integration of petrophysics with geology and engineering
Russian well technology and drilling methodologies
Software application development
Handling large client databases
Major Projects
Prasse has designed and developed software applications to process large numbers of wells, balancing accuracy with delivery time. For projects covering several thousand wells in Russian Mesozoic clastics, Prasse automated quick-look analysis using Techlog, generating appropriate answers in a very short time.
For projects with more than 900 wells in Kuwaiti carbonates and Algerian clastics, Prasse has completed integrated projects that included extensive normalization studies, parameter development from core data, detailed calculations, and thorough reporting. Results have been used to construct geocellular models, with significant impact on client development plans.
He has served as a team leader on site, training staff in interpretation methods for open-hole logs of all types and vintages.
With Mobil, he used petrophysical and geological analysis to predict pay properties, sometimes prompting a radical reassessment of reserves and exploration potential. In the Browse Basin of Australia, he identified what would eventually become a 14-trillion-cubic-foot discovery, previously misclassified as a dry hole, by reinterpreting logs and using evolving knowledge about regional variation in formation water properties.