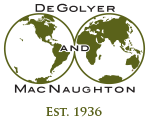 Consultoria Mundial de Petróleo e Gás

Charles H. Robinson Jr.
Charles H. Robinson joined DeGolyer and MacNaughton in 1999, and he has spent most of his career as the Deputy Director of D&M's Moscow office engaged in petroleum engineering and economic evaluation of numerous projects in Europe, Russia, and the CIS. Prior to joining D&M, he worked for ARCO International Oil and Gas Company for 17 years, primarily in Algeria, Indonesia, and Russia.
Robinson earned a bachelor's degree in mechanical engineering from the University of Texas, El Paso, and a bachelor's degree in mathematics from Loyola University in New Orleans, Louisiana. He is a member of the Society of Petroleum Engineers and the American Society of Mechanical Engineers. Robinson is conversant in Russian.
Geographical Experience
Topical Areas of Expertise
SEC reserves reporting requirements
Reserves estimation
Field development studies
Property appraisals
Economic assessments
Major Projects
Served as coordinator and point of contact for all evaluations performed in Russia and other former CIS regions.
Served as the technical and economic supervisor for all oil and gas evaluations performed by D&M's Russian personnel.
Prepared and presented multi-day seminars on reserves classification, estimation, and economic assessments for major clients in Russia and the former CIS.