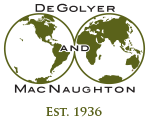 Consultoria Mundial de Petróleo e Gás

Dr. N. Javier Rondon
Javier Rondon joined DeGolyer and MacNaughton in 2008 as a petroleum engineer.
Rondon earned his bachelor's degree in petroleum engineering in 1999 from the Universidad Central de Venezuela in Caracas. In 2002, he received a master's degree in petroleum engineering from Texas A&M University, and in 2008 he was awarded a doctorate degree in petroleum engineering, also from Texas A&M. Rondon is fluent in Spanish and English and is knowledgeable in French. He is a member of the Society of Petroleum Engineers.
Geographical Experience
Algeria
Libya
Saudi Arabia
Venezuela
Topical Areas of Expertise
Waterflood and gasflood performance evaluation
Fluid PVT properties and special core analysis
Enhanced oil recovery processes
Reservoir modeling
Rheology measurement
Major Projects
Rondon's reservoir engineering experience at D&M has been focused primarily on Algerian fields, performing detailed studies used as a basis for field development planning and strategies to improve recovery. As a member of a multidisciplinary team, he participated in the comprehensive study of several giant oil and gas fields in Algeria. Tasks included production data analysis, single-well potential deliverability, pattern analysis and full-field simulation modeling, and history matching for fields with extensive production history. He has worked on the evaluation of gasflood performance for the Hassi Messaoud field to select a gasflood zone for detailed modeling study, construction of geocellular model and validation of a reservoir simulation model, and investigation of future development scenarios and strategies to improve oil recovery by improving gasflood efficiency.
He has worked on the evaluation of selected periphery fields surrounding the giant Hassi Messaoud field. The objectives for these studies were to establish conceptual development plans, confirm in-place hydrocarbon volumes, and investigate various integrated development strategies for the fields, and provided a methodology for defining future well locations for appraisal and delineation consistent with both current geological analyses of available well and seismic data and the proposed engineering development program.