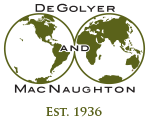 Consultoria Mundial de Petróleo e Gás

Dr. Maxim Saakyan
Maxim Saakyan joined DeGolyer and MacNaughton in 2020 and is Deputy General Director of Moscow Branch, and is responsible for oil and gas reserves and resources audit branch office in Moscow. Prior to joining D&M, he worked for the Russian Government Commission of oil and gas reserves for 10 years as a first deputy director and Oil company Rosneft as a head of reserves and audit division for 2 years.
Saakyan was elected a Senior Vice President of D&M's Moscow branch in 2021. He received a masters' degree in geological and geophysics from Russian State Oil and Gas University in 2008, a Ph.D. degree in 2010, has a number of state awards, including an excellent officer of oil and gas exploration. Saakyan speaks English and Russian.
Geographic Experience
Azerbaijan
India
Kazakhstan
Russia
Uzbekistan
Ukraine
Topical Areas of Expertise
SEC and PRMS
Russian national classification system (one of the authors)
Reserves estimation
Geomodeling
Acquisitions and mergers
Economic analysis
Major Projects
As Deputy General Director of the DeGolyer and MacNaughton Representative office in Moscow, Saakyan coordinates the audit of oil and gas reserves in Russia and the CIS countries (CEA division).
Working with clients of the oil and gas sector in Russia and the CIS countries on regular basis.