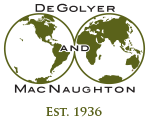 Consultoria Mundial de Petróleo e Gás

Sebastian Saavedra
Sebastian Saavedra joined DeGolyer and MacNaughton in 2014 after nearly 10 years as a geomodeler and exploration geologist for Apache Corporation.
Saavedra obtained a 6-year university degree in geological sciences from the University of Buenos Aires, Argentina in 2004. He is fluent in English and Spanish. 
Geographical Experience
Angola
Argentina
Brazil
Colombia
Ecuador
Egypt
Mexico
Mozambique
Nigeria
Peru
Saudi Arabia
United States
Venezuela
Topical Areas of Expertise
Formation evaluation
Prospect assessments
Reservoir characterization
3–D reservoir modeling
Reserves estimations
Shale and tight sand reservoirs
Seismic interpretation
Major Projects
In the U.S., he was a member of the exploration team working on shale and tight sand projects. Saavedra performed geological modeling and volumetric estimations in the Wolfcamp and Cline Formations. He integrated geological and petrophysical information in order to get a better determination of facies and to allocate the reserves associated to each well and the optimal trajectory between wells. In addition, Saavedra worked in several projects in Texas (Irion County, Barnhart area, and Schleicher, Border, Lynn, and Garza Counties) on unconventional and stratigraphic targets involving static modeling, reservoir characterization, reserves calculation, and generation of new prospects in several formations including the Wolfcamp, Cline, Spraberry, and Mississippian Formations. In Argentina, Saavedra was involved in exploratory development projects in several basins.
At D&M, Saavedra has been involved in reserves estimation projects in Africa and Latin America.