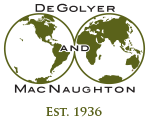 Consultoria Mundial de Petróleo e Gás

Anthony G. Smallwood
Anthony Smallwood joined DeGolyer and MacNaughton in 2009, after serving 10 years in the United States Naval Nuclear Propulsion Program and 4 years as a mechanical engineer in the heavy truck industry.
Smallwood earned a bachelor's degree in mechanical engineering from Texas Tech University in Lubbock in 1994. In 2004, he received a master's of engineering management degree from Old Dominion University. He is a member of the Society of Petroleum Engineers and is currently serving as the Vice President of technology for the Dallas Chapter of the Society of Petrophysicists and Well Log Analysts.
Geographical Experience
Algeria
Colombia
Ghana
Kazakhstan
Kuwait
Nigeria
Russia
Saudi Arabia
United Arab Emirates
United States (Alaska)
Topical Areas of Expertise
Petrophysical interpretation
Unconventional tight gas reservoirs
Complex porosity and permeability relationships
Core analysis
Major Projects
Smallwood has performed integrated petrophysical interpretations, including engineering, geology, and petrophysical data, for input into multiple reservoir computer simulation models. He has developed input parameters to full-field simulation models for both carbonate and complex Paleozoic sandstone reservoirs.
Smallwood is also experienced in using well-test data, log analysis, and mapping techniques to establish original free-water levels in hydrocarbon-bearing reservoirs. He also has experience in selecting cores for use in enhanced oil recovery (EOR) and computing well properties for use in EOR simulations. Smallwood utilizes well-test results, core data, petrophysical well-log interpretation, and engineering data to provide a comprehensive solution.