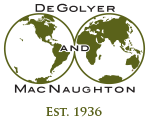 Consultoria Mundial de Petróleo e Gás

Ekaterina V. Sorokina
Ekaterina V. Sorokina began her employment at DeGolyer and MacNaughton's Moscow office in 2008 as a petrophysicist. Before joining D&M, Sorokina worked for Lundin-Petroleum performing petrophysical studies in the offshore Caspian, North Caspian, East and West Siberia, and Orenburg regions.
Sorokina received a Bachelor's degree in Mining Engineer-Petrophysicist from the I.M. Gubkin State University of Oil and Gas in 2004. Ekaterina is fluent in both Russian and English.
Geographical Experience
Azerbaijan
Kazakhstan
Russia
Ukraine
Uzbekistan
Topical Areas of Expertise
Interpretation of clastic and carbonate lithology
Russian logging tools
Wellsite operations
Log quality control
Formation evaluation
Interpretation and integration of core, well tests, and geologic data into petrophysical and geologic models
Major Projects
Sorokina has conducted reserve estimations on numerous oil and gas fields situated throughout the Russian Federation and countries from the Former Soviet Union. She performs analysis of all types of log data obtained from either open-hole or cased-hole wells. She has performed log analysis of both clastic and carbonate reservoirs using all available geologic, petrophysical, geotechnical survey core and well test data.