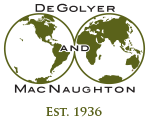 Consultoria Mundial de Petróleo e Gás

Dennis E. Thomas
Dennis E. Thomas is a senior geologist for DeGolyer and MacNaughton, joining the firm in 1985. Prior to joining D&M, he worked as a geologist at Fagan Associates International Inc. and Calumet Corporation.
Thomas earned a bachelor's degree in earth science and geography in 1971 and a master's degree in earth science in 1973 from East Texas State University. A certified petroleum geologist, Thomas is a member of the American Association of Petroleum Geologists and the Society of Petroleum Engineers as well as other professional organizations. He became a Vice President at D&M in 1987.
Geographical Experience
Algeria
Angola
Argentina
Australia
Brazil
Brunei
Cameroon
Canada
China
Colombia
Denmark
Egypt
Gabon
Ghana
India
Indonesia
Italy
Kazakhstan
Kuwait
Libya
Mauritania
Mozambique
Nigeria
Norway
Oman
Pakistan
Russia
Saudi Arabia
South Africa
United Kingdom
United States
Venezuela
Yemen
Topical Areas of Expertise
Basement and igneous reservoirs
Integrated reservoir studies
Computer modeling
Reservoir characterization
Depositional systems
Reserves estimation
Expert witness testimony
Quantitative risk analysis
Fair market valuations
Stratigraphic interpretation
Field development planning
Subsurface mapping
Fractured reservoirs
Unitization and equity determination
Geocellular modeling
Volcanic basins
Geostatistics
Wrench tectonics

Major Projects
Thomas has extensive experience in the Berkine and Illizi Basins of the Algerian Sahara. He has conducted detailed studies to plan placement of injector/producer pairs and observation wells in WAG pilot projects. These projects have included the largest fields in Algeria. Field studies made in Triassic, Silurian, Devonian, and Ordovician reservoirs have been used as a basis for field development planning. In these studies, he has used advanced geocellular and geostatistical methods to quantify reservoir heterogeneities in order to better predict reservoir performance under different operating conditions. He has helped place horizontal and sub-horizontal wells to capture displaced oil rim reserves in active gas cycling projects. These placements required the integration of geologic and engineering data on a real-time basis as the wells were being drilled.