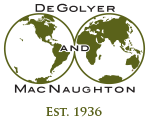 Consultoria Mundial de Petróleo e Gás

Dr. Robert S. Tye
Dr. Robert S. "Bo" Tye, a widely recognized expert on sedimentology and stratigraphy, joined DeGolyer and MacNaughton in 2005. His career activities cover exploration, development, and technical training.
Tye received a bachelor's degree in geology from the College of Charleston in 1978, a master's degree in geology from the University of South Carolina in 1981, a doctorate in marine sciences from Louisiana State University in 1986, and a master's degree in Environmental Quality Science from the University of Alaska, Anchorage in 1996. He has published many technical studies and in 2004 was the AAPG Roy M. Huffington Distinguished Lecturer for the Asia region. A licensed professional geologist, Tye belongs to the American Association of Petroleum Geologists, Society for Sedimentary Research, and the International Association of Sedimentologists.
Geographical Experience
Algeria
Indonesia
Kuwait
Middle East
Mozambique
Oman
Russia
South America
United States
Topical Areas of Expertise
Geocellular modeling
Tight gas fields
Sedimentology
Reservoir characterization
Volumetric evaluation
Clastic and carbonate formation evaluation
Major Projects
His sequence stratigraphy-based correlations and paleogeographic reconstructions formed the geologic basis for calculating hydrocarbon volumes in fields in Algeria, Indonesia, Mozambique, Russia, and Venezuela.
Tye began reservoir modeling in Alaska, focusing on the North Slope and Cook Inlet fields. He provided quantitative data for geocellular models by describing core, identifying and interpreting lithofacies and facies associations, and correlating the stratigraphy and modifying it into reservoir layers and flow units. For Prudhoe Bay, he constructed models of deltaic and fluvial strata to support simulation of different recovery mechanisms. Two noteworthy studies characterizing permeability extrema in the Prudhoe reservoir dramatically changed field development. One study resulted in significant increases in flood efficiency and oil recovery. A second study produced a geologic method to predict high-permeability zones in distributary-mouth bar reservoirs, thus providing guidance for placement of new and infill wells. His core-description and depositional-systems expertise enhanced resources assessment and field development in Kuwait, Oman, and Russia.